Enquiry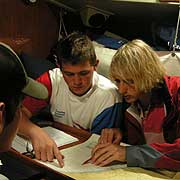 ELECTRONIC CHART DISPLAY AND INFORMATION SYSTEMS (ECDIS)
Successful completion of an Electronic Chart Display and Information Systems (ECDIS) course is a requirement for progression within the MCA system of Yacht Officer Certificates of Competency: Officer of the Watch (OOW) to Chief Mate and then Master 500 & 3 000t.
ECDIS is a geographic information system used for nautical navigation and, in order to be used as an alternative to paper nautical charts, systems must comply with International Maritime Organisation (IMO) regulations.
PYT offers the MCA-approved ECDIS course at the premises of SAMTRA in Simon's Town.
This 40-hour (5 day) course complies with IMO requirements.
Candidates should be familiar with navigational computer operations and be experienced in coastal navigation.
It is strongly recommended that candidates have completed training or have experience in collision avoidance on ARPA and Radar.
Students who successfully complete this course will be issued with certification for generic ECDIS training but should be aware that type-specific training may be required by certain flag states.
Price List
Product Name (Product Code)
Price
ELECTRONIC CHART DISPLAY AND INFORMATION SYSTEMS COURSE (MCA-ECDIS-F-004)
USD 1,000.00
Course Dates
Please select the Start Date when making Enquiries / Bookings
Name
Dates
Year
Course Venue
ELECTRONIC CHART DISPLAY AND INFORMATION SYSTEMS COURSE (Cape Town)
19-23 Sept
2022
Booking CT for CT
10-14 Oct
2022
Booking CT for CT
12-16 Dec
2022
Cape Town
20 - 24 Feb
2023
Cape
22 - 26 May
2023
Cape
03 - 07 Jul
2023
Cape
11 - 15 Sep
2023
Cape
04 - 08 Dec
2023
Cape
Enquiry