Enquiry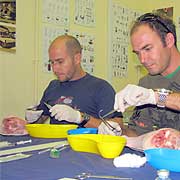 MEDICAL FIRST AID. A-VI / 4-1
The Medical First Aid course is presented over a 4 day period of professional instruction. The course contains both theoretical & practical elements.
The contents of the course are:
Anatomy & Physiology
Principles of First Aid management on board ship
Vital Signs, Cardio Pulmonary Resuscitation
Bleeding and Wounds
Management of special forms of bleeding
Bandaging Techniques
Administering Injections
Shock Fainting & Unconsciousness
Treatment of Burns & Electrical accidents
Transporting an injured person
Treating injuries
Oxygen Administration
Toxic Hazards of Chemicals including poisoning
Examination of a patient
Lifeboat ailments
Evacuation by Helicopter
Advice on medicines
First Aid Protocols
HIV/Aids and the interpretation of Signs & Symptoms (Diagnosis).
Price List
Product Name (Product Code)
Price
MEDICAL FIRST AID (A-VI / 4-1) (ST-MFA(A-VI / 4-1) M-002)
ZAR 3,150.00
Course Dates
Please select the Start Date when making Enquiries / Bookings
Name
Dates
Year
Course Venue
Enquiry