ADVANCED COURSES
Enquiry

The Medical First Aid course is presented over a 4 day period of professional instruction. The course contains both theoretical & practical elements.
The contents of the course are:
Anatomy & Physiology
Principles of First Aid management on board ship
Vital Signs, Cardio Pulmonary Resuscitation
Bleeding and Wounds
Management of special forms of bleeding
Bandaging Techniques
Administering Injections
Shock Fainting & Unconsciousness
Treatment of Burns & Electrical accidents
Transporting an injured person
Treating injuries
Oxygen Administration
Toxic Hazards of Chemicals including poisoning
Examination of a patient
Lifeboat ailments
Evacuation by Helicopter
Advice on medicines
First Aid Protocols
HIV/Aids and the interpretation of Signs & Symptoms (Diagnosis).
More Detail
Enquiry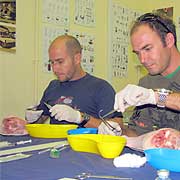 A certificate of successful completion of an Efficient Deck Hand (EDH) Course is a requirement for the MCA Yacht Officer of the Watch (OOW) Certificate of Competency (CoC).
PYT offers the MCA-approved EDH course at the premises of SAMTRA in Simon's Town.
Although candidates may sit the OOW oral exam beforehand, the EDH certificate must have been held for 18 months in order for the CoC to be issued.
Similarly, although the EDH course can be attended beforehand, certain mandatory requirements must be met before an EDH Certificate may be issued. The candidate must:
Be at least 17 years of age
Hold at least one of the following:

An MCA accepted Yachtmaster Offshore/Master of Yachts 200t Limited
A Yacht Rating Certificate and a steering certificate
A Navigational Watch Rating Certificate
A Boat Master Licence Tier 1 or 2
A Tug Rating Certificate and a steering certificate

Have completed a minimum of 6 months seagoing service on vessels >15 m
More Detail
Enquiry