Enquiry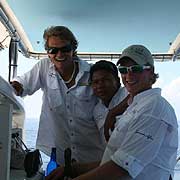 DAY SKIPPER COURSE
Holders of this certificate are qualified to skipper a sailboat at sea from sunrise to sunset. Local waters are defined as 15 nautical miles from the skippers' home port, or 25 nautical miles from their home port provided they are no more than 15 nautical miles from an approved safe haven.
The Day Skipper course covers the following topics & runs for a period of 5 days.
Nautical Terms
Knots & Ropework
Charts& Navigational Publications
Navigation
GPS
Pilotage
Other Navigational Instruments
Tides
VHF Radio
Colregs
IALA Buoyage
Handling a Boat Under Power
Handling a Boat Under Sail
Man Overboard
Weather Forecasting
Anchoring
Safety & Emergencies at Sea
Vessel Seaworthiness
Diesel
Local Knowledge
First Aid and Legal.
Price List
Product Name (Product Code)
Price
DAY SKIPPER COURSE (SAS-DSC-001)
ZAR 6,000.00
Enquiry