Enquiry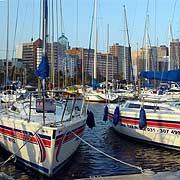 YACHTMASTER OFFSHORE
Holders of this certificate are qualified to skipper a sailboat on any extended or ocean passage.
The Yachtmaster Offshore candidate requires mastery of the day Skipper & Coastal Skipper Syllabuses plus the sections below:
Admiralty & Other Tidal Systems.
Fixing Position by Meridian Passage.
Ocean Meteorology & Tropical Rotating Storm.
Heavy Weather Sailing.
Ocean Passage Planning.
Communication at Sea.
Vessel Seaworthiness.
Legal.
Price List
Product Name (Product Code)
Price
YACHTMASTER OFFSHORE (SAS-YMOF-003)
ZAR 6,000.00
Enquiry